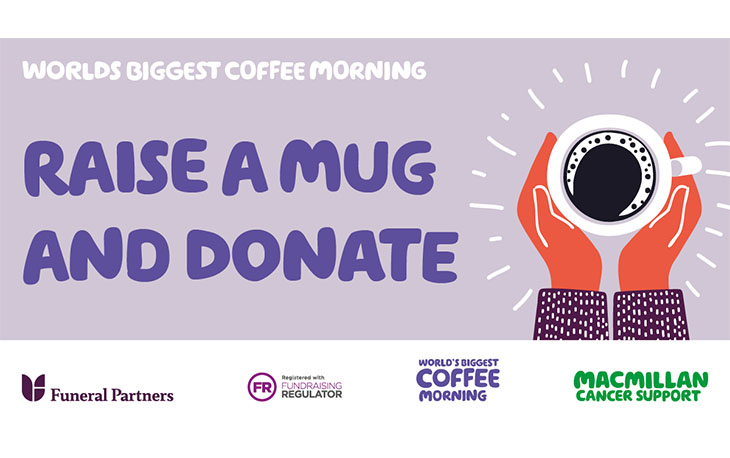 Every September 25th our funeral homes take part in Macmillan's Worlds Biggest Coffee Morning. Unfortunately, due to coronavirus and social distancing restrictions we are unable to host coffee mornings in the usual way but this hasn't deterred us, so instead we are holding remote coffee mornings.
Funeral Partners has set up a national campaign with posters, and social media support, including a link to a MuchLoved fundraising page dedicated to the World's Biggest Coffee Morning asking our clients and communities to join us at 11am on Friday 25th September to raise a mug to Macmillan and encourage them to do the same wherever they are.
Let's unite together (metaphorically, not physically!) to raise awareness and funds for Macmillan Cancer Support.
Macmillan Cancer Support is one of the largest British charities and provides specialist health care, information and financial support to people affected by cancer. It also looks at the social, emotional and practical impact cancer can have, and campaigns for better cancer care. Their help is totally focused on each individual person, so everyone receives the support that's best for them.
For information, support or just someone to talk to, call Macmillan Cancer Support free on 0808 808 00 00 (7 days a week, 8am-8pm).
We might be going it alone this year but together we can make a difference and help millions of people living with cancer.
Visit our donation page to upload a selfie and message to the 'Wall of Support', make a donation and share your support for those that have beaten cancer, lost their battle, and those still fighting today. Even the smallest donation can help make a difference. Thank you for your support.