If you have been asked to write an obituary for a close family member or friend, here are our top 8 tips for writing an obituary.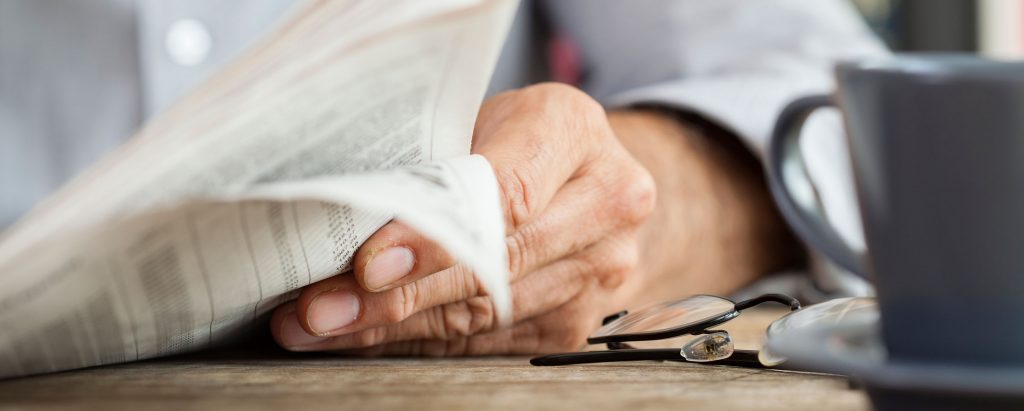 Firstly, what is an obituary?
An obituary is a news article which announces the death of a loved one – also referred to as a death notice. They typically include a brief biographical overview of the person's life, and also any public details of their memorial or funeral service. Obituaries aren't required by law, but they give the option of sharing the news with a large number of people.
Here is our step-by-step guide to writing an obituary:
1. Decide if you want a print or digital obituary
Traditionally, obituaries are found in local newspapers. Though online obituaries are becoming much more common since the rise in social media use. Obituary notices are usually posted within a week of a loved one's death, especially if it includes details about the funeral or memorial service.
If you decide to go with a print obituary, please note, some local papers charge per word so double check this cost ahead of writing. Alternatively, if you opt for the digital route then word limit isn't a problem, though we recommend trying to keep it short and concise, where possible.
2. Read sample obituaries for guidance
Before you begin writing your loved one's obituary, it can be helpful to read other people's examples to get an idea of length, tone and content. There are many places to find samples online, including Lovetoknow.
3. Prepare key facts and information
Making a list of key facts and information ahead of writing can make it easier to begin the process. It gives you a rough starting point and helps make sure you don't forget anything important. Although your loved one's obituary will be personal to them, there are a number of details which are typically included:
Death announcement – the deceased's full name, age, location of death, date of death, cause of death (optional).
Surviving family members – this includes their spouse, children, grandchildren, great grandchildren, parents, and siblings. It's written as: Jim is survived by his wife Sarah, 61, and their sons Jake, 30, and Robin, 27.
Charitable donation – if a donation page has been set up on behalf of your loved one, you can include a URL or instructions for donating money.
Details about the funeral or memorial service – if you're happy to make this information public, include any relevant details such as when and where the service will be held.
4. Make it personal
The best obituaries will often paint a picture of the person who has passed, giving the reader an insight into the person's life. Alongside the more biographical details mentioned above, some people choose to include more intimate details about their loved one's life. Things like date and place of birth, their hometown, any qualifications or degrees they earned, their hobbies and interests, and even organisations they were a part of. It's also a nice idea to speak to close friends and family members to see if they have any stories or memories which you could include.
If you're struggling to make it personal, try asking yourself the following questions: How would you describe their personality? What are your favourite memories of them? How would they want to be remembered?
5. Be respectful
It's best to use your own judgement when it comes to the tone of the obituary. For some, a more sombre tone is best suited, whereas others prefer something less traditional. Don't be afraid to use a light-hearted tone if you feel it's more fitting to your loved one's life and their memory. Many people choose to add humour into their friend or family member's obituary as they feel it better reflects the person who has passed.
6. Select an obituary photo (optional)
This image will sit alongside the print or digital obituary so it's a good idea to choose one that is respectful to the deceased, while still being representative of their personality.
7. Proofread
Don't rush it, this is when you're most likely to make mistakes – double check all the details are correct and the names are spelt right before you publish it. It's worth noting, an online obituary can be amended very easily, but if you publish an obituary in a newspaper then it can't be corrected. This is something to consider when choosing whether you want a print or digital obituary.
8. Ask your funeral home or funeral director for help, if needed
If you are struggling to write the obituary, it's worth speaking to your selected funeral home or funeral director. They can offer you guidance when it comes to writing a loved one's obituary.
If you'd like more advice about writing an obituary for a loved one, please contact our friendly Patrick Ryan and Daughter team here.