The climate crisis has been a hot topic in recent years, with more people focussed on living sustainably than ever. This trend has led to an increase in green funerals with the eco-friendly option becoming a desirable way to say goodbye. In this guide we'll be unpacking what a green funeral is and how to arrange one.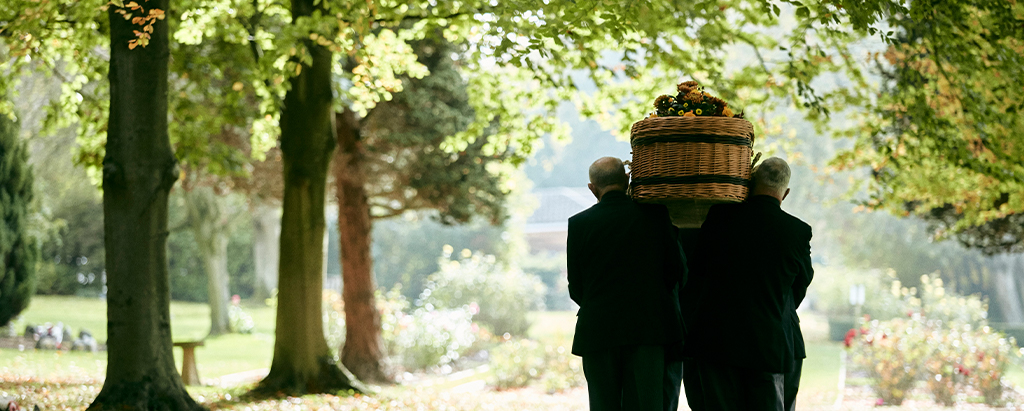 What is a green funeral?
A green funeral is an eco-friendly alternative to a traditional burial. From the preparation of the body to the funeral service, decisions are made to limit the amount of harmful or wasteful materials used, limiting the impact the funeral has on the environment.
Why choose a green burial?
People tend to choose an environmentally friendly funeral over a traditional funeral service because they wish to continue their sustainable way of life after they have passed. If someone has been passionate about protecting the planet throughout their lifetime, they will likely prefer a natural burial.
Eco-friendly funerals tend to take place in outdoor spaces like flower meadows or natural woodland. These scenic sites create a more pleasant atmosphere for a funeral service, and the simplicity of the surroundings allows the day to be focussed on celebrating your loved one.
What eco-friendly funeral options are there?
The options available to you will depend on the funeral provider you choose to go with. Some will have more natural funeral services available than others, but the most common tend to be:
A natural or green funeral in a cemetery
A natural or green funeral in a woodland.
A natural or green funeral in your home or private land
Remember, you can make your funeral as green as you wish. From the preparation of the body and the casket to the transport and clothes you wear on the day. Most funeral directors will be able to accommodate your requests. They are there to discuss your arrangement plans and explore your options with you, so you can create the environmental funeral your loved one would have wanted.
How do you arrange an eco-friendly funeral?
Arranging a funeral can be overwhelming but with the right people around you, the process can be simple.
Much like a traditional funeral, you will work closely with the funeral director to discuss your plans for the service, and they will do their utmost to accommodate your requests. You should take time to explore your options because green funerals can be restrictive.
That being said, as long as you follow the guidelines of your chosen burial ground (which are all centred around the conservation of the site), Funeral Partners have a number of options available to cater for your green funeral.
Funeral Partners offer a wide range of fully flexible funeral plans. You can tailor your plan to meet the needs of your green funeral and ensure your loved one's wishes are carried out.
What do natural funeral burials prohibit?
When considering a green funeral, it is important you understand what is available to you or in this case what you are prohibited from having. This includes the preparation of the body and everything, up to the day of the service.
A green funeral:
Does not allow cremation
Tends to take place at a conservation site
Does not allow embalming of the body
Should use eco-friendly funeral caskets only
Does not allow decoration of the grave or permanent memorial
Does not allow tending to or gardening of the grave
Eco-friendly coffins are biodegradable and can be made from a range of approved materials including cardboard, bamboo, pine, willow, banana leaf and wool. These environmentally friendly coffins allow your loved one to return to nature in a dignified way which is often desired by family and friends. Woodland sites will prefer coffins that minimise the effect on the natural environment so bear this in mind when choosing your coffin material and burial ground.
Despite green funerals prohibiting headstones or a permanent memorial, some burial grounds will allow you to temporarily mark the grave with a wooden marker or plant a tree in their memory. If visiting the exact location of your loved one's resting place is particularly important to you, you should carefully consider if a woodland burial is right for you and your family.
For more support following the death of a loved one, there are many organisations that can help. Find out more about bereavement support.