When making funeral arrangements for your loved one, choosing what music to play can be an important part of the funeral plans. The music will set the mood of the funeral – happy, sad, uplifting – and can reflect the personality of your loved one.
Additionally, some people choose to feature live music during the funeral service, such as singers, soloists or groups. This could be a friend, family member, or professional funeral musicians.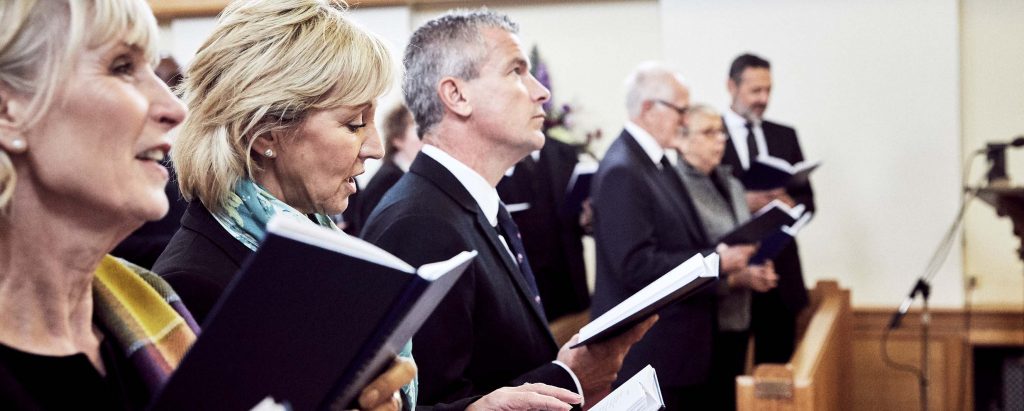 What music can you use at a funeral?
The answer to this question often surprises people, but in most cases you can choose any piece of music to play at a funeral. A funeral service is seen as a celebration of life, and if a song can encourage this sentiment, it's nice to have it as part of the ceremony. Popular choices include classical music and pop songs, but in modern funerals song choice goes as far as TV theme songs, film music, or even heavy metal.
Is any music suitable for a funeral?
That being said, it's important to be respectful to bereaved family and friends. A funeral is still a very emotional time, so we recommend considering mourners in attendance when making your song choice.
How to choose funeral music?
When it comes to choosing songs to play at a funeral, there are a number of things to think about. Things like, does this music represent the person who has died? Will this song offend the bereaved family or friends? Even, would your loved one enjoy the music you have picked? If your loved one had a favourite song, it can be a lovely touch to include this.
How many pieces of music do you have at funerals?
The majority of funerals will have at least two music slots. Usually there is one for the entrance and one for the exit – this can be the same song if you'd like. For those who want to include a slideshow (or equivalent) during the service, you can use this as a chance to play another piece of music.
Does the funeral home sort the music?
If the service is being held at a crematorium, you will usually tell the funeral director your song choice, and they will deal with the crematorium directly. For church services, you are expected to deal with the minister directly.
Here are some popular funeral songs to offer inspiration when selecting reflection music for funerals:
Classical music for funerals
Ave Maria – Schubert
1812 Overture (conclusion) – Tchaikovsky
Canon in D – Paachelbel
Pie Jesu – Fauré
Hymn to the fallen – Katherine Jenkins
The four seasons – Vivaldi
Popular music for funerals
Angels – Robbie Williams
Halo – Beyonce
Someone you loved – Lewis Capaldi
Supermarket flowers – Ed Sheeran
I'll be missing you – Puff Daddy and Faith Evans
Lay me down – Sam Smith
Sad/reflective music for funerals
In the arms of an angel – Sarah McLachlan
Bitter sweet symphony – The Verve
Goodbye's the saddest word – Celina Dion
Come away with me – Norah Jones
Wind beneath my wings – Bette Midler
Knockin' on Heaven's door – Bob Dylan
Uplifting music for funerals
What a wonderful world – Louis Armstrong
The best – Tina Turner
Fly me to the moon – Frank Sinatra
Good vibrations – The Beach Boys
I wanna dance with somebody – Whitney Houston
I say a little prayer – Aretha Franklin
Funny music for funerals
Always look on the bright side of life – Monty Python
Another one bites the dust – Queen
Bring me sunshine – Morecambe and Wise
Dad's army theme – Bud Flanagan
Don't worry be happy – Bobby McFerin
Match of the day theme song