When a loved one passes away, one of the first things we need to do is to let their friends and family know. Traditionally, a death announcement (or death notice) would be placed in a local newspaper. However, in an era where so many of us stay connected online, announcing a death on social media can be a useful way to share this news — and offer a space to post information on the forthcoming funeral.
Remember, though: only include information that you're happy for large numbers of people to see, and be specific about plans (i.e. who is invited to attend the funeral or memorial, and where cards or flowers should be sent if people wish to do so).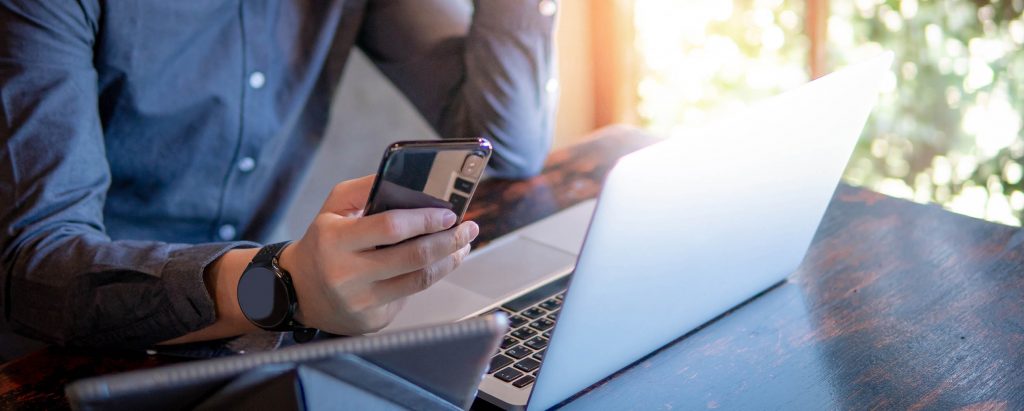 Should I announce a death on social media?
Platforms such as Facebook, Twitter and Instagram have become places where we commonly share updates about our lives — from buying a home or getting a promotion to pregnancies and engagements. While it may feel strange or taboo to announce a death online, it can be a suitable and useful way to share the news.
What's the best way to talk about death on social media?
There's no one right way to announce a death on social media — the most important thing is to be sensitive to those who'll be reading the post. With this in mind, it can also be a good idea to call or meet up with close friends and family members before posting and ask them if they're comfortable with you sharing the news on social media. It's also useful to consider: would posting about this news offend anyone? Is it what my loved one would have wanted? Is the post you've planned to share something you'd want to read yourself?
What's usually included in an online death announcement?
Whether you're posting an announcement in a newspaper or online, the same information should be included. As well as informing people of a recent death, a death announcement typically includes information such as the full name of the deceased (including their maiden name), their dates of birth and death, the location of their death and any details of an upcoming funeral or memorial service for those who wish to attend. This could sometimes include details on whether the funeral will be in person or a live stream funeral service.

It could also be useful to consider the following:

1. As well as factual information about your loved one and the upcoming funeral service, you might choose to include some personal memories and a photo of the deceased.

2. While some people will be grateful to have received this news online (if, for example, they live further afield and wouldn't have heard through local news), others will not appreciate finding out about a death on social media. It's worth keeping this in mind before you post. You might also want to include a 'sad news' warning at the top of the post, to allow people to read it at an appropriate time.

3. Be sensitive with your timing. It can take days, weeks or sometimes months to absorb the news of a loss, so consider waiting until a few days after the death before sharing the news online.

4. Many people have hundreds of online friends — so you may decide that you only want to share the news with those closer to your loved one. To do this, you can adjust the sharing or privacy settings of your post so only certain people will see it.
Should I post online about attending a funeral?
It's respectful to ask the bereaved family's permission if you want to post about the funeral on social media. They are going through a very difficult time and might not want the death to be discussed online. Alternatively, the family may have set up an online tribute or donation page for mourners to visit and post on.
I'd like to create an online space to memorialise the loss of my loved one. What's the best way to do this?
Some people choose to create a digital memorial. This offers a more formal, obituary-style space, allowing you to memorialise your loved one online. Sometimes, this involves using the deceased's social media account as the memorial site. It can act as their digital legacy, celebrating their life and offering a chance for friends and family (both near and far) to post tributes to them and share special memories.

To set up a digital memorial on an existing Instagram or Facebook profile, you'll need your loved one's username and a copy of their death certificate. Find out more about memorialised Facebook accounts or memorialised Instagram accounts.